What is lung cancer?
Lung cancer is the disease when cells in one or both of the lungs undergo abnormal changes and grow out of control. These abnormal cells cannot perform their regular function and reduce the lung's ability to deliver oxygen to the blood. Tumors may also form as a result of the abnormal growth. In addition, similar to other cancers, lung cancer can spread to other parts of the body as the disease processes. According to 2008 statistics by the American Cancer Society, lung cancer is the second most prevalent cancer type in men and women (after prostate cancer and breast cancer, respectively), and it is the number one killer among all the cancer types.
What causes lung cancer?
Cigarette smoking is found to be responsible for the majority of lung cancer cases. Similar to other cancer types, lung cancer takes time to develop. Therefore, although lung cancer is often diagnosed among older people, the cause of the disease usually originates from a much younger age. For this reason, young people who smoke may not immediately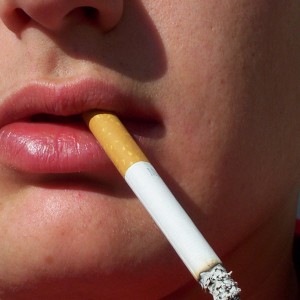 Cigarette smoking is often portrayed as cool and hip. While it is illegal to advertise cigarettes on TV, tobacco companies are finding different ways to tempt young people to smoke. They have created cartoon characters and cigarette shaped bubble gum, both of which are now banned by the government. You can also see your favorite actor or actress smoke in the movies. These are just some of the ways tobacco companies use to get young people to light up for the first time. Nicotine is one of the many chemicals that you inhale when you smoke. This chemical is highly addictive. Tobacco companies know that it is so addictive that once you start, it will be really hard for you to stop. Studies have shown that most adult smokers started smoking when they were preteens or teenagers.